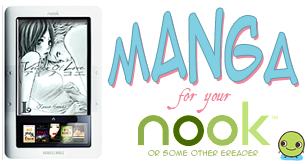 A couple of weeks ago I figured out how to convert manga in to a PDF document that will display on my Nook. It was quite a bit trickier than you might imagine... I'll post instructions another day. Until then, as long as I'm converting manga for myself, I may as well share it.
Akkan Baby
~ Downloaded from Goldlily's Media Gallery ~
Mangaka
Miyaōchi Saya
Genre(s)
comedy, drama, ecchi, romance, school life, shōjo, slice of life
Original run
August 2004 – January 2005
Volumes
3
Summary Taken From TJO
High schoolers Yuki and Shigeru aren't dating, but still enjoy a highly active sexual relationship. Naïve and still very child-like in the way they think, it comes as a great shock to them when Shigeru discovers she's pregnant. The two are confronted with the decision of aborting the baby and wounding Shigeru, or to keep it and face great opposition from their parents and high school, and
*gasp*
miss their beloved Conflict concerts!
Review
It's a cute little story. I read it because it's the first manga I've ever come across that actually dealt with teen pregnancy, meanwhile it seems that every American TV show has a pregnant teenager or five. The focus is less on the main characters and more on their relationship with the principal, which is unfortunate. It's mostly ridiculous, but worth reading if you're bored and just want a reasonable-length quickie romance story.
Story





Art






Download in .PDF format

Read online at MangaVolume.com
~ To my the best of my knowledge, these manga have not been licensed in the United States. They are fan translations, done for no profit. I encourage supporting the mangaka by purchasing a copy of the original. ~